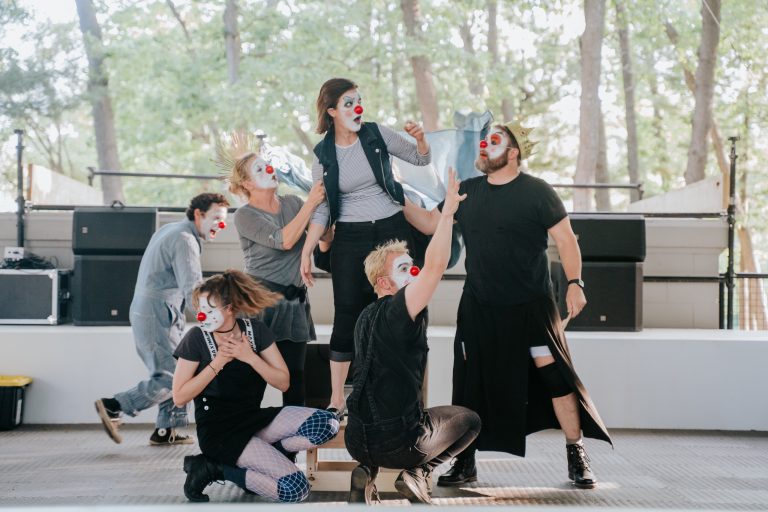 HARPE STAR IN THEATRE ARTS & PRODUCTION
Harpe Star has been working in the Northern Michigan theatre scene together since 2019.
Previously, Micah had worked in both Chicago, IL and Grand Rapids, MI, where he studied theatre at Grand Valley State University for two semesters, before getting tired of traditional education.
Kristen grew up in the box seats of the Ramsdell Theatre, in Manistee Michigan, but took a break from theatre until 2016, when she cracked into the NoMich scene like a blaze of glory. In her first five years she produced, acted, designed and took photos for more shows than one should for ones health.
In 2021 Harpe Star had the joy to be apart of the inaugural Parallel 45 Theatre Resident Company; an ensemble of actors, directors and designers who call Northern Michigan home.  
In the first year this resident company put together a series of six Staged Readings from new and daring playwrights, at low cost, so that the community can see these pieces without having to pay Broadway ticket prices.
This company met routinely to train together in the style of French Clown, and culminated their time with the annual summer Benefete, and a performance of Hamlet With Bubbles, written by Micah Mabey and Noah Freid.
In 2018 Kristen joined Mashup Rock & Roll Musical, a theatre troupe that puts on original parody musicals, web-series, and cabarets – helmed by Lesley Alica Tye, as an in troupe actor and digital designer on their original piece Little Prince and the Man From Mars (music from Prince and Bowie, set to the mashedup stories of The Little Prince and The Man From Mars.) 
Micah first helped backstage (and with photography) on a production with Mashup in 2019, a revival of their first ever show How Grinchy Met The Who. He became a full fledged member in 2020 during their three "episode" run of Scooby Doo-Wop.